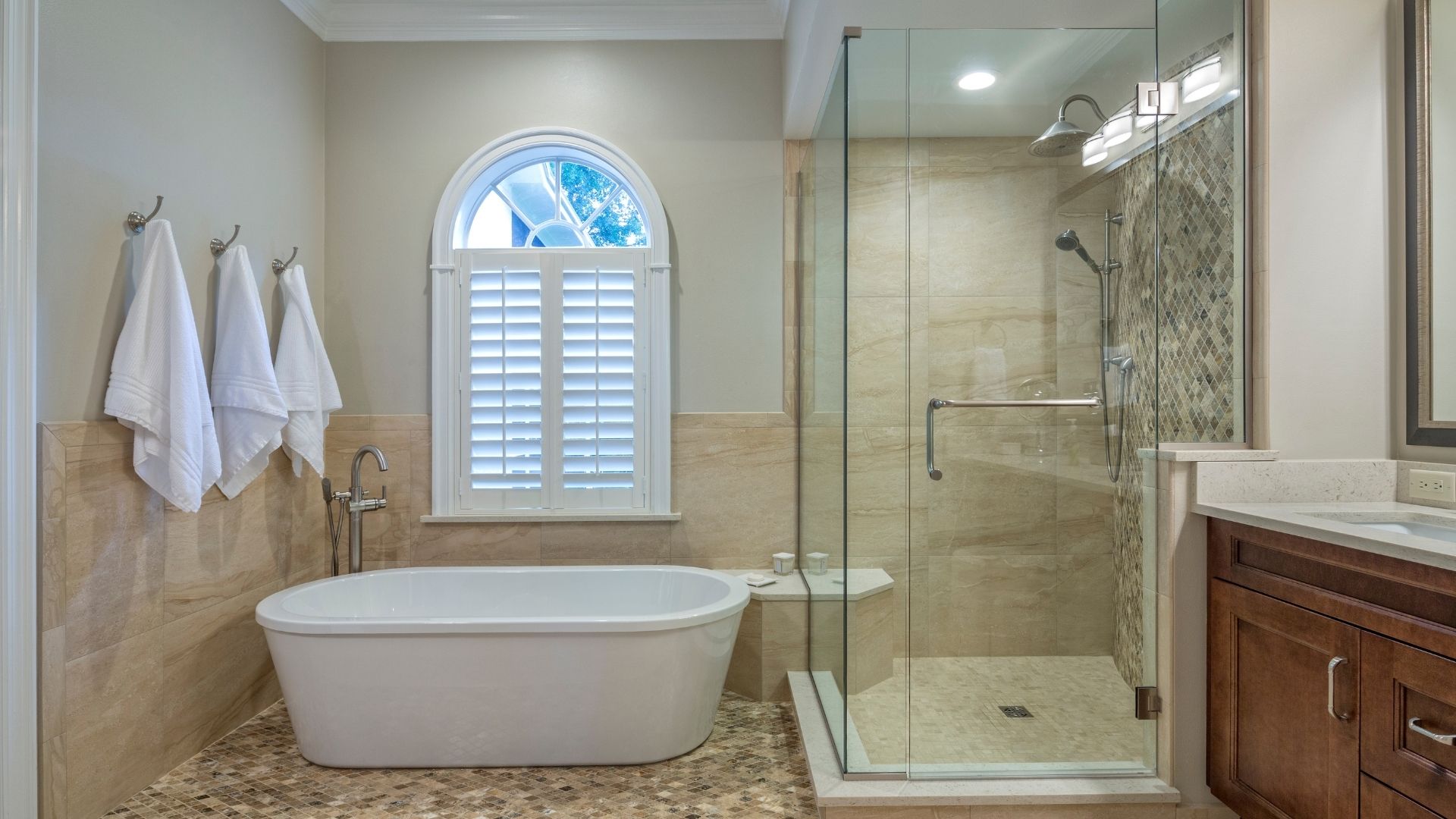 Bathroom Remodel Bradenton FL
If you're gearing up for a shower remodel, a bath remodel, or a full bathroom remodel, Bradenton, FL residents like you don't need to finish this job on your own. Working with skilled bathroom remodeling contractors can help you make sure that your updated space will match your bathroom remodel ideas.
Are you looking for a company capable of handling anything from a small bathroom remodel to a master bathroom remodel? No matter what type of bathroom you need to remodel, Bradenton Bathroom Remodels is the best choice for you!
We Remodel All Sorts of Bathrooms
As Florida's go-to company for any type of bath remodel, Bradenton Bathroom Remodels is capable of completing work on any bathroom space in your home. Ask us about your next:
Small bathroom remodel. Remodelling services for small bathrooms have to make the most out of these rooms' minimal space. With help from our team of bathroom experts, you'll be able to put this space to better use than ever before!
Full bathroom remodel. Full bathrooms feature all major bathroom fixtures – a toilet, a sink, a shower, and a bathtub. When you're planning a Florida bathroom remodelling job, ask us about upgrading all of these components simultaneously.
Luxury bathroom remodel. If your Florida home has the room and the budget you need for a truly phenomenal bathroom, you might as well put it to use. Work with us to take your ideal bathroom remodel from a dream to a reality.
Partial bathroom remodel. Many bathroom remodelling jobs make significant changes to bathrooms without completely revamping them. We'd be happy to work on your bath remodel, tub remodel, or shower remodel.
Request a FREE Quote
After successful submission, you will be forwarded to our Google My Business Page.
When Is It Time For Bathroom Remodelling?
Knowing when you're truly ready for bathroom renovations can be challenging. That said, some factors can suggest your bathroom needs a revamp. If any of these bathroom problems sound familiar, you may want to think about calling Bradenton Bathroom Remodels in the near future:
Out-Of-Date Decoration
Home decor trends change over time by their very nature, but some bathroom designs can look outdated or even tacky sooner than you'd expect. Your luxury bathroom should look and function at its best, so it's essential to take its decor seriously.
Poor Design Choices
A cramped bathroom or a bathroom with insufficient storage won't be enjoyable to use. Instead of trying to make do, it's likely in your best interest to hire a bathroom remodeler.
Lighting Problems
Your bathroom might not be as well-lit as you'd expect – even if it isn't overly dark. Excessively bright bathroom lights can also cause problems, so take lighting into account when it's time to decide on your bathroom remodelling schedule.
Major Warning Signs
If your bathroom is suffering from mould, mildew, or leaks, you could be in real trouble. These can all indicate that your bathroom needs serious attention, so be sure to work with trustworthy contractors like Bradenton Bathroom Remodels while trying to find a solution.
Update Your Bathroom ASAP
If you think you're overdue for bathroom renovations, there's no need to spend valuable time looking for a "bathroom remodel near me." When it's time for bathroom remodelling, Bradenton, FL residents count on Bradenton Bathroom Remodels!
The bathroom experts working for our company are ready to help people in Florida communities like:
Anna Maria/Anna Maria Island
Palma Sola
Snead Island
Holmes Beach
Terra Ceia
Lakewood Ranch
West Bradenton
Ellenton
Foxleigh
Fort Hamer
Parrish
Palmetto
Get in Touch
Give us a call today on 941-269-1044